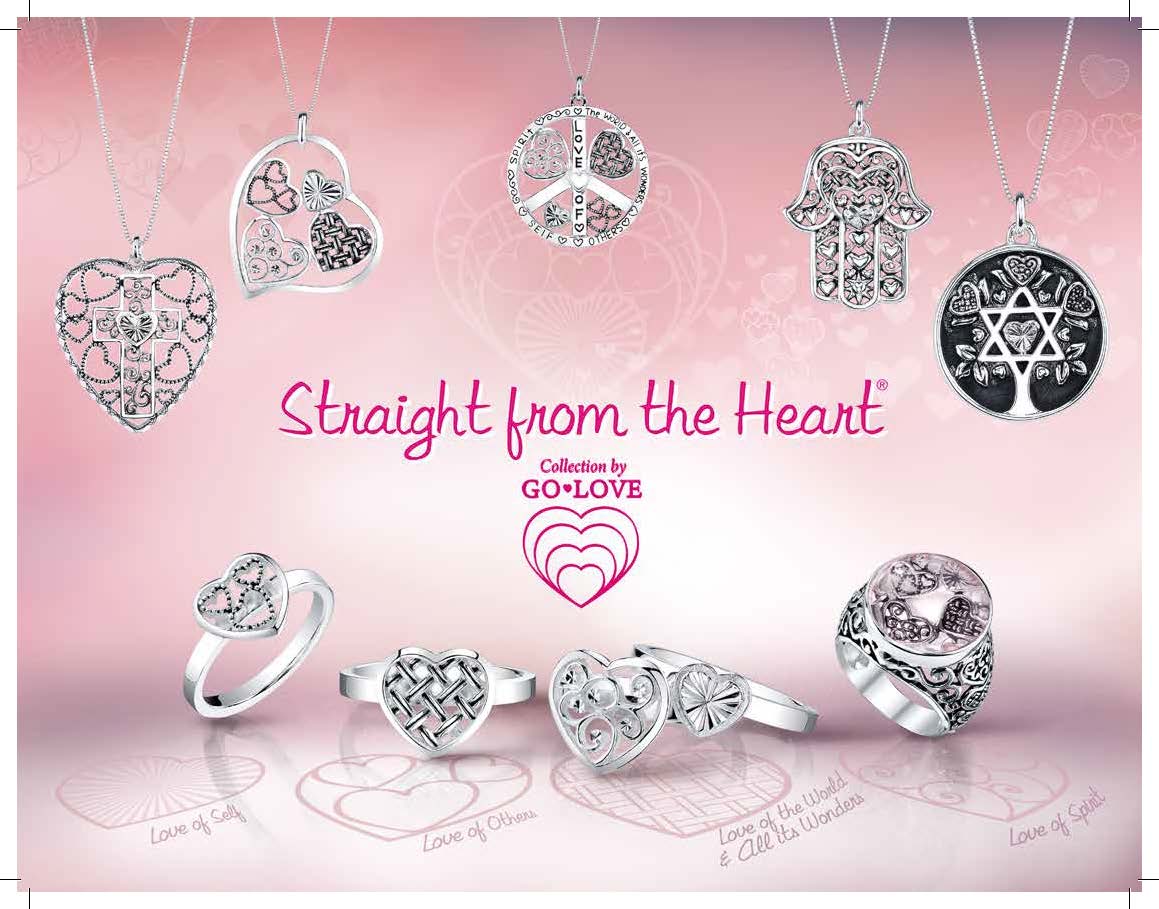 To live life to the fullest, we first have to understand how love works…and I have the secret!  Love is not just an emotion, it is multi-layered and we need to celebrate each layer in order to truly understand how love works.  The "Straight from the Heart®" collection beautifully represents each layer so you can share with the world the greatness within each of us.  It all starts with you (Love of Self).
Where to Buy the Straight from the Heart® Jewelry Collection
Helzberg Diamonds: In their retail stores, website and catalog.
Fords Jewelers
449 New Brunswick Avenue
Fords, NJ  08863
(732) 738-7322
Kiersten's Jewelry
315C Main Street
Holbrook, NY  11741
(631) 467-1675
Le Joaillier Fine Jewelry
747 Franklin Avenue
Garden City, NY  11530
(516) 746-2304
Westerly Jewelry
8 High Street
Westerly, RI 02891
(401) 596-2314
The Window Shop Jewelers
104 Main Street
Northport, NY  11768
(631) 261-0436
Unique Judaica
216 Jericho Turnpike
Syosset, NY  11791
(516) 364-8311
Hewlett Jewelers
1344  Broadway
Hewlett, New York 11557
(516) 374-3950
Open Tuesday through Saturday
Anna Re Fine Jewelry
511 Main Street
Islip, NY 11751
(631) 581-7106
Bolila Jewelry
2014 North Jerusalem Road
Bellmore, NY 11710
(516) 280-8193
www.bolilajewelry.com
Bolila Jewelry
43 Merrick Avenue
Merrick, NY  11566
www.bolilajewelry.com
Bolila Jewelry
1414 2nd Ave (Between 73rd and 74th street)
New York, NY 10021
(212) 288-9080
Ecolin Jewelers
14 East Broadway
Port Jefferson, NY 11777
(631) 473-1117
Ecolin Jewelers
464 North Country Road
St. James, NY 11783
(631) 686-5858
Forever Jewelers
36 Main Street
Warwick, NY  10990
(845) 986-2248
Great American Jewelry
5163 Merrick Road
Massapequa Park, NY
(516) 279-6752
Eastport's Little Secret
495 Montauk Highway
Eastport, NY  11941
(631) 801-2806
Angel Haven
27 Coogan Blvd. Building 2a
Mystic, CT
(860) 245-0200
Express Jewelry Center
44 N. Main Street
Concord, NH
(603) 259-4389
Brentwood Jewelry & Gifts
7012 Church Street
Brentwood, TN 37027
(615) 373-5959
J. Mullins Jewelry & Gifts
352 West Northfield Blvd.
Murfreesboro, TN 37129
(615) 962-7164
McKenzie & Smiley Jewelers
2321 Madison Street
Clarksville, TN 37043
(931) 553-8790
McKenzie & Smiley Jewelers
2794 Wilma Rudolph
Clarksville, TN 37043
(931) 553-0555
Yorktown Jewelers
2008 Crompound Road, Roma Building
Yorktown Heights, NY  10598
(914) 245-1023
Inspiration Gallery
1333 North Avenue
New Rochelle, NY  10804
(914) 633-8508

Bunty's Jewelry
120 Commack Road
Commack, NY 11725
(631) 462-6145
Bunty's Jewelry
47 Rte. 111
Smithtown, NY 11787
(631) 366-0106
Let's Accessorize
2161 Merrick Road
Merrick, NY 11566
(516) 867-7071
Snug Harbor Jewelry
395 Merrick Road
Amityville, NY 11701
(631) 264-0626
Rhodadendrun
73 Wheeler Avenue
Pleasantville, NY 10570
(914) 238-7899
Touch of Gold
202 Washington Street
Occoquan, VA 22125
(703) 490-4544
Fly High Little Bunny
3120 South Shepherd Drive
Houston, TX 77098
(713) 520-9995
Polka Dotz "Chic"
3025 Daniels Road, Suite 106
Winter Garden Village
Winter Garden, FL 34787
(407) 877-2222
Aljan Jewelers
54 Miller Road
Mahopac, NY  10541
(845) 628-3447
J. Alexander Fine Jewelers
1935 Union Valley Rd.
Hewitt, NJ 07421
(973) 728-1645